Introducing…Research Round-up!

"Research Round-up" is a new column written by Tina Pittman Wagers, MSW, PsyD. As a psychologist, SCAD Alliance adviser, and SCAD survivor herself, Tina has unique perspective of both the science and patient journey. She has volunteered to summarize journal articles covering the "hot topics" of SCAD. 
Hello all! For our first installment, we thought it might be a good idea to provide more detail about the recent MedPageToday SCAD article summarizing the research of Dr. Jacqueline Saw. Dr. Saw (a SCAD specialist and interventional cardiologist affiliated with Vancouver General Hospital) and 31 colleagues affiliated with the Canadian CanSCAD cohort study published important and somewhat surprising findings in the Journal of the American College of Cardiology (JACC) in October 2022, which offer optimistic implications for SCAD survivors. I got hold of the article and while I can't post it here because of copyright reasons, I had a chance to dive into it and give some thought to what the implications are for us SCAD survivors.
If you have access to a medical library, you can retrieve this article by using the DOI link I've posted here: https://doi.org/10.1016/j.jacc.2022.08.759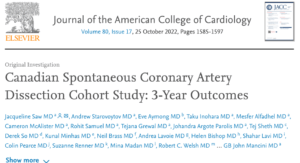 Who was studied in the cohort
750 nonatherosclerotic SCAD patients, confirmed via angiography and core laboratory results, were followed for 3 years following a hospitalization for SCAD. These patients came from 22 sites in Canada (20) and the US (2). The average age was 51.7 and 88.5% of the patients were women. At the time of hospitalization and admission into the current study, one third of patients had a segment elevation MI (STEMI) and the rest a non-STEMI. By self-report, emotional precipitating factors occurred in 50.3% of cases, and physical stressors in 28.9% of cases. The authors report that, importantly, 41.6% patients were NOT screened for fibromuscular dysplasia (FMD), but of those who had any FMD screenings, 42.9% had the condition, and for those who had a complete screening, 56.4% had FMD. 4.5% of patients were peripartum, 2.9% had connective tissue disorders, 3.9% had systemic inflammatory disease, 1.6% had genetic disorder and 47.9% had NO known predisposing factors.
How participants contributed their data
Once patients had given consent to be enrolled in the study, they were followed in the hospital, and then at 1, 6, 12 months and annually for 3 years. Data were gathered from patient records, hospital reviews as well as a number of questionnaires that patients completed.
Main findings of the SCAD cohort study
In the past, studies of SCAD patients have reported that these patients faced perhaps a 20-30% chance of having a major adverse coronary event (or MACE) in the 3-10 years following a SCAD event, including, but not limited to, recurrent SCAD. (For example, Tweet et al, 2012 – in an important retrospective study of SCAD at Mayo Clinic – reference below.)
More recently, Dr. Esther Kim's review of the SCAD literature published in the New England Journal of Medicine in 2020 reported a 3–4-year recurrence rate of 17-18%, based on the research included in her very thorough review. This statistic is lower than in some earlier studies, but still higher than a lot of us would have liked. (See reference to the Kim article below, too.)
However, this recent study by Saw et al followed 750 SCAD heart attack patients for 3 years and found that the outcomes for these patients were much better than previously reported. Over the course of 3 years, SCAD patients' mortality rate was only 0.8%, and rate of MACEs were lower than what had been previously reported in the literature: 14%. Of this 14%, 9.9% was due to a recurrent myocardial infarction, or MI. Further breaking down this 9.9% finding, 3.5% was due to an extension of the previous SCAD, 2.4% was a new SCAD, and 1.9% was from dissection caused by catheterization.
SCAD medication and more considerations
The authors also note that most of the SCAD patients studied in the current investigation remained on aspirin and beta-blockers, though being on these medications did not seem to affect the rates of MACE in these patients (But don't quit taking your beta blockers and aspirin yet – the authors note that another well-designed study looking specifically at the efficacy of these medications in SCAD patients is ongoing, and beta blockers are still part of the treatment guidelines for SCAD patients).
I wanted to add one other point not covered in the MedPageToday summary regarding chest pain, which many SCAD survivors struggle with post-SCAD (so much so that we even have a module about it on the SCAD Warrior app). The Saw et al study found that chest pain following SCAD was not an uncommon experience. 50.4 % of patients had chest pain following SCAD, 20.8% of enrolled participants visited an ER for chest pain or other cardiac symptoms in the 3 years of the study, 7.1% were admitted to the hospital for chest pain, and 31.8% of patients were diagnosed with either typical or atypical angina.
In addition, though recent SCAD treatment guidelines recommend conservative medical management as the first line of treatment, the outcomes for patients who had undergone revascularization procedures (like a percutaneous coronary intervention, or PCI, or coronary artery bypass grafting, CABG) did not differ from those receiving conservative treatment. That's good news, in case you are a patient who needed more invasive treatment following SCAD.
Research Recap: Top 5 from CanSCAD study
Compared to outcomes reported in the literature several years ago, this investigation of 750 SCAD patients found that mortality rate was low and recurrence of SCAD was also fairly low: around 10% over the 3 years of the study. The instance of MACEs (a major adverse coronary event) was about 14% (this number includes recurrent SCAD).
It's hard to know exactly what these improved outcomes are due to, but it could be that older studies had enrolled patients with more severe SCAD symptoms/events, so their outcomes were less favorable than patients in CanSCAD. Additionally, the field has gotten better at identifying, diagnosing and treating SCAD in the last several years, so that has likely made a positive difference for patients who have experienced SCAD more recently.
Chest pain is not uncommon in SCAD patients. About 50% of these participants reported post-SCAD chest pain. So, if you have had post-SCAD chest pain, you're not alone, but talk to your doctor about which pain symptoms warrant concern, or a trip to the ER.
Although many participants in this study were not screened for FMD, about half of folks who were screened had FMD. About half of folks in this study had NO known risk factors, though.
Emotional stress was the most commonly reported precursor of SCAD in this study, and has shown up as a risk factor for SCAD in many other studies as well. If you're continuing to struggle with emotional stress, please explore resources available to you online or in-person to assist you in developing strategies to manage stress, including, but not limited to, the SCAD Warrior app.
Key takeaways offer hope for SCAD survivors
All in all, this is an encouraging study that finds longer-term outcomes are much better than previously thought even a few years ago, likely due to the current climate of increased awareness of SCAD, more widespread emphasis on treatment guidelines for SCAD patients, and more accurate diagnosis and effective treatment of SCAD patients. To summarize:
Keep telling your story
The data are reported in terms of what happened to these 750 participants on balance, at different sites, with different cardiologists conducting treatment, and with lots of variables, some of which we have data on and some of which we may not. Your own personal story may not be reflected in the data that were collected. Patients' stories are a critical part of understanding SCAD, and such stories often generate systematic inquiry into a new facet of our condition. Furthermore, the literature on SCAD has plenty of case reports – individual stories of what happened to a specific individual who presented with a particular set of symptoms and required a particular kind of treatment. Those are important and informative for the field, but, as I tell my students at the University of Colorado, "the plural of anecdotes is not data."
Research takes patients and patience!
The scope of the study was 3 years. Moving forward, as the field really gets it arms around SCAD, we'll see 5- and 10-year reports based on larger, more diverse patient cohorts, like that of the iSCAD Registry. I, for one, will be excited to see those reports, but data from 3 years still tells us a lot, too.
This research highlighted role of emotional stress
As a psychologist, I want to emphasize another point: it makes sense to know your risk factors, and the #1 event that preceded SCAD in this study was emotional stress. It is always wise for us SCAD survivors (and humans in general) to learn to manage stress, even if we cannot prevent stressors from occurring in our lives.
Communication with your medical team is key
If you experience chest pain sometimes, you're not alone. Talk with your doctor about what kind of chest pain might warrant a visit to the ER. In addition, if you haven't been screened for FMD, like over 41% of the patients in this study, it might be a good idea to talk to your doctor about that, too.
Stay tuned for the study on beta-blockers and aspirin for SCAD patients. We'll report on it once it's published.
References:
Saw J, et al "Canadian spontaneous coronary artery dissection cohort study: 3-year outcomes" J Am Coll Cardiol 2022; DOI: 10.1016/j.jacc.2022.08.759.
https://www.medpagetoday.com/cardiology/myocardialinfarction/101264.
Kim, E. S. H. Spontaneous Coronary Artery Dissection, N Engl J Med 2020;383:2358-70. DOI: 10.1056/NEJMra200152
Tweet MS, Hayes SN, Pitta SR, et al. Clinical features, management, and prognosis of spontaneous coronary artery dissection. Circulation. 2012; 126 ( 5 ): 579 – 588.
Tina Pittman Wagers, MSW, Psy.D, is a SCAD survivor, clinical psychologist and Teaching Professor Emerita from CU Boulder. She is also a member of the SCAD Alliance advisory board and co-developer of the SCAD Warrior app (www.scadwarrior.com).